The following is a scan from Masā'il al-imām Ibn Bāz: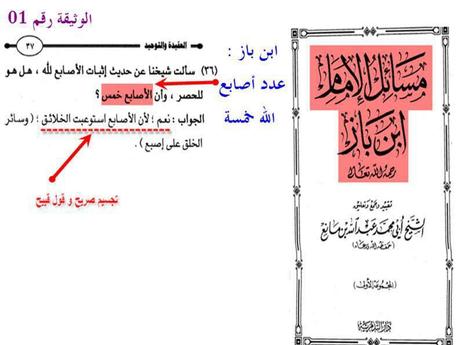 Quote
I asked our Sheikh about the hadith affirming "fingers" for Allah and if it [the hadith] is for restriction,
in that the fingers are five [in number]?
Answer: Yes, because the fingers contain all of creation (and the rest of creation is on a finger).
Useful Anecdote:
Salafi shaykh Muhammad b. Salih al-Uthaimeen reacts differently to Ibn Baz, disagreeing with the question and says 'Audhubillah' 'How can you ask this question?' 'Fear Allah!':
شرح العقيدة السفارينية للعلامة الفقيه / محمد صالح العثيمين – (1 / 24)
أما الحقيقة والكيفية فهذا شيء لا يمكن إدراكه ،
ولهذا يحرم على الإنسان أن يتخيّل أو أن يتصوّر شيئًا من صفات الله عز وجل ، يعني لا يجوز أن تتصور أو أن تتخيل يد الله ؟ كيف هي مثلاً ؟
ولهذا سألني سائل مرة : ما تقول في أصابع الله ؟ كم أصابع الله ؟
أعوذ بالله ، أحد يسأل هذا السؤال يا أخي اتق ربك ، أنت ملزم بهذا ؟!!!
اثبت أن لله أصابع كما قال الرسول عليه الصلاة والسلام .
وأما كم ؟ ما يمكن أن نتكلم بهذا ؟
قلت له : والله ما أنت بأحرص على العلم بالله من الصحابة .
هل الصحابة لما قال الرسول عليه الصلاة والسلام : ( إن الله يجعل السماوات على إصبع والأرضين على إصبع ) 21 ، هل قالوا يا رسول الله : هل لله أكثر من هذه الأصابع ؟
ما قالوه لأنهم أكمل أدباً وأشد تعظيماً لله ممن يأتي بعدهم ،
وإذا كنت صادقا في عبادة الله فلا تتجاوز ما أخبر الله به عن نفسه كما أنك لا تتجاوز ما شرعه الله لعباده .